Print This Post | Email This Post
Chicago to have most patriotic hospital ever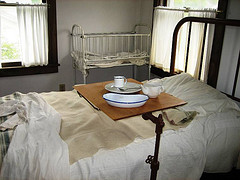 A federal health center that will open in North Chicago Oct. 1 will be the first of its kind to combine services for both the Dept. of Defense and the Dept. of Veterans Affairs. The Chicago Tribune's Peter Cameron reports that the DOD/VA project has taken eight years to complete and required the transfer of 530 civilian employees from DOD to VA, the assimilation of medical records, and the construction of a 290,000 foot ambulatory care center. The renovation involved in the project cost $130 million. However, Patrick Sullivan, director of the new health center, said it actually saves $67 million because the Pentagon would have otherwise had to build a new naval health center.
A question that emerges from the Tribune's fairly upbeat piece is why it has taken so long to merge health centers for active military personnel and veterans, particularly if it actually saves money.
The Pentagon budget has doubled in the past decade, but VA hospitals are dangerously underfunded. Combining health centers should help veterans get the health care resources they need, but we will see how the Chicago experiment unfolds.